When it comes to the online environment, people with creative inclinations, regardless of the field of activity, such as those with a talent for drawing, photography, cinematography, art, animation, game design or design, cannot carry out their work without a computer compatible with modern digital creative flows, and ASUS provides them with a full range of laptops with specialized functions and top performance through the ASUS ProArt Studiobook Pro 16 OLED, ASUS Zenbook Pro Duo 15 OLED and ASUS Vivobook Pro 14X/16X OLED models.
ASUS Vivobook Pro 14X/16X OLED: For young people who want to explore their talent
ASUS Vivobook Pro 14X/16X OLED is an advanced tool designed for everyday creators, influencers, streamers, vloggers, young musicians and more, a formidable combination of power in a compact, highly portable space, and with a cool design that matches any modern style thanks to the lid's texture with a unique fabric-look pattern or anodized aluminum, both finishes designed to easily repel fingerprints and smudges.
Several ASUS Vivobook Pro 14X/16X OLED models are offered with PANTONE-validated OLED screens that accurately display the full DCI-P3 color gamut, the standard also used in Hollywood movies. What advantages does this certification bring to creators? Basically, it guarantees an artistic vision transposed in detail, colors exactly as the author imagined them, and a final result that others can equally enjoy.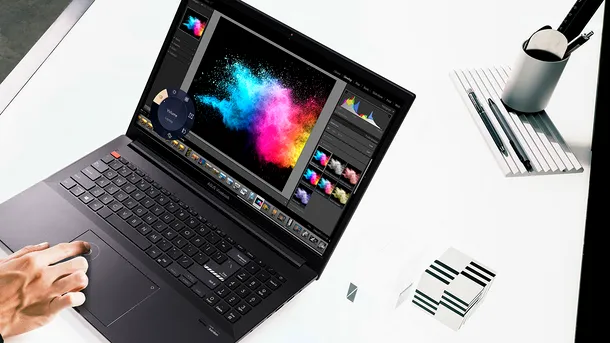 A feature that shows ingenuity is the ASUS DialPad, a rotary controller precisely embedded in the touchpad surface that basically acts as a virtual interface for quick access to the most frequently used functions and shortcuts, and allows creators very easy control of your favorite tools from the suite of compatible Adobe programs.
ASUS Zenbook Pro Duo 15 OLED: Designed for productive creators on the go
ASUS Zenbook Pro Duo 15 OLED is the option that lends itself best to artists who work in areas such as video editing, graphic designers and those who do animation or drawing, i.e. for those creators who will enjoy the presence of the ScreenPad Plus secondary touch screen, with 4K resolution, a display as fine as the main touchscreen with OLED technology. Both screens can be used together simultaneously for graphic design, thanks to support for a stylus capable of detecting 4096 different pressure levels, making it easy to draw naturally.
ASUS Zenbook Pro Duo 15 OLED is highly adaptable, so you can quickly create extended workspaces by connecting to 4K, 8K or even 10K screens thanks to the HDMI 2.1 connection jack. Control of this incredible number of pixels without unwanted jerks is ensured by video cards with graphics chips that reach up to the powerful NVIDIA GeForce RTX 3080.
ASUS ProArt Studiobook Pro 16 OLED: the choice of leaders and innovators
ASUS ProArt Studiobook Pro 16 OLED is simple to characterize: a highly portable workstation that can handle any workflow, and can be equipped in the top configuration with fast NVIDIA RTX A2000 graphics, a chip specially designed for professional applications. But it doesn't matter which configuration you opt for, because the laptop will give you an uncompromising creative experience with exemplary performance and stability, suitable for the most demanding types of activities in the field of audiovisual, engineering and science.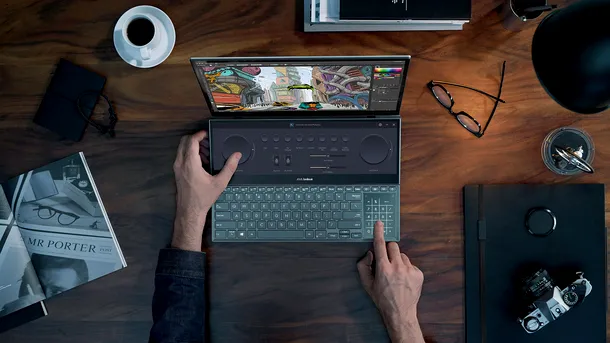 Surprising features for a portable are joined by a gorgeous 4K OLED screen validated and certified by Calman, software calibration solution widely used in professional environments, as well as Independent Software Vendors ISV certification that guarantees exemplary running without the slightest stability issues , of the most important applications on the hardware configuration of each model.
Also regarding the components, the ASUS ProArt Studiobook Pro 16 OLED is also distinguished by the support for RAM memory with automatic error correction through the ECC function, the storage module consisting of two units connected in RAID 0 mode and the SD card reader type Express 7.0 which allows you to download photos and videos from your camera/video 10 times faster.
The most important component for creators, however, is the ASUS Dial, a physical wheel strategically placed in the keyboard area that captures the experience of using specialized controllers in production studios without taking up more desk space. By rotating and pressing the ASUS Dial you will be able to quickly zoom in on images, scroll through lists, change the screen brightness, adjust the sound level, control the size of the brush in Photoshop, to name just a few functions that can be controlled intuitively. Customizing the ASUS Dial menus to fully adapt to your own workflows is done quickly directly from the ProArt Creator Hub app.
If you want to know more details about these laptops for creatorswe suggest you also visit the Create with ASUS page, where you can find all the details about the specifications, important features and existing configurations, as well as a number of testimonials from ProArt artists who use these tools in their own creative flows.
Every ASUS creator laptop you buy during this period benefits from three months of full access to programs from the popular suite Adobe Creative Cloudthe software collection most loved by creators, a superb companion to a range of laptops that have been designed to meet the demands of professional work environments.
In conclusion, we specify that you can still participate in the campaign Your opinion matters which only requires posting a short user review of your ASUS laptop of at least 200 characters on any of the participating platforms, at which point you'll receive a one-year warranty extension for your product.